Books
NAUTILUS AND BONE (FRONTENAC HOUSE, 2020)
WINNER OF THE NATIONAL JEWISH BOOK AWARD FOR POETRY (2021),
THE CANADIAN JEWISH LITERARY AWARD FOR POETRY
THE BOOK PUBLISHER ASSOCIATION'S ROBERT KROESTCH AWARD FOR POETRY
LONGLISTED FOR THE RAYMOND SOUSTER AWARD,
Nautilus and Bone chronicles the life and work of the radical, passionate Russian-Jewish American poet Anna Margolin on her path toward self-determination. Blending myth, surrealism, historical fact and fiction, this collection of persona poems brings to life one of the most celebrated Yiddish poets of her generation.
"More than a biography-in-poems, Nautilus & Bone is a companion to the remarkable life of Anna Margolin. It visits the major episodes and characters in its subject's story, but it also adds its own music and sensibility, its own rich mouthfuls of language, its own contemporary sense of form and possibility. I am struck by how Margolin's raunchy, brilliant, tragic, and captivating spirit finds a god-daughter in Lisa Richter's voracious, passionate voice." – Adam Sol, author of "How a Poem Moves"
"In Nau­tilus and Bone, Lisa Richter races around the life and work of Yid­dish-lan­guage poet Anna Mar­golin (1887 – 1952) until her ​"words are wild­ing." The poet­ry super­sedes the mere bio­graph­i­cal and show­cas­es the tri­umphs of the genre: in forms includ­ing son­net crowns, cen­tos, and homo­phon­ic trans­la­tions, Richter keeps up with Margolin's escapades from Brisk to the Low­er East Side. Poems such as ​"Flew the Pea­cock Off-Gold­en" com­bine icon­ic themes of Yid­dish poet­ry with Richter's exu­ber­ant syn­tax: ​"above sleep I became the peacock/​my rest­less eye flew away you bow." Lan­guage flaunts itself across his­to­ry — with epigraphs rang­ing from Lor­ca to Liz­zo, the col­lec­tion memo­ri­al­izes Margolin's lega­cy across time. Richter's exhil­a­rat­ing achieve­ment doesn't mere­ly bring Mar­golin to life — it dares the read­er to live as ful­ly as Margolin." – Judges' remarks, Jewish Book Council
To order Nautilus and Bone, please visit the Frontenac House website or contact your local independent bookseller.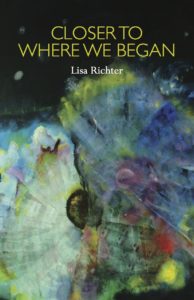 Closer to Where We Began (Tightrope Books, 2017)
"Lisa Richter weaves time and place with grace and expertise throughout the poems in this her first collection, Closer to Where We Began. Sensual, delicate yet biting, these poems sweep forward and back with energy and insight proving 'the heart is a finite muscle of blood and music.' By following the rhythm of each poem's unfolding we are led to a 'deeper quiet.' A rich and resonant book."—Catherine Graham, author of Her Red Hair Rises with the Wings of Insects
"Richter's first book traces an intimate diaspora, melding her Jewish heritage from Montreal to Tel Aviv, with her Western stint existing amid "mountains, reflected in puddles" and her current life in Toronto, one threaded through with subtle gestures of love as a couple examines viscera in a gallery, as they cross symbolic suspension bridges and she feels the flower and flame of his hand on her back. Memorial poems abound – for George Harrison, Nathan, Maurice Sendak, Vancouver. Remembering almost has a scent: lush, acrid, irretrievable. These are pieces of young mid-life when possibly a deeper consciousness of death and history twins with continued and reconfigured desires. Inscription, Long Exposure, With your Permission, To my New Grey Hairs and What the Night Brings into Morning are some of my particular favorites in this gently fierce and consistent collection." – Catherine Owen, author of Designated Mourner
"Wonderful book full of travel, love, memory with an almost hallucinatory sensory quality. A book to get lost in, in the best sense of the word." – James Hawes, author of Breakfast with a Heron
" These are the poems of the flâneuse, they wander from the Sinai desert to the wine dark Seine to the peaks of a mountain in BC. They are earthy and compassionate poems. They exude sensuality. They are rich with colour and history. They are gypsy, witch, shapeshifting, gothy teenage and hedonistic poems. They are feisty and fun, thoughtful and a joy to read." – Amanda Earl, author of Kiki
Out of print. To purchase a copy, please contact the author.