Books
NAUTILUS AND BONE (FRONTENAC HOUSE, 2020)
WINNER OF THE NATIONAL JEWISH BOOK AWARD FOR POETRY (2021) and LONGLISTED FOR THE RAYMOND SOUSTER AWARD
Nautilus and Bone chronicles the life and work of the radical, passionate Russian-Jewish American poet Anna Margolin on her path toward self-determination. Blending myth, surrealism, historical fact and fiction, this collection of persona poems brings to life one of the most celebrated Yiddish poets of her generation.
"More than a biography-in-poems, Nautilus & Bone is a companion to the remarkable life of Anna Margolin. It visits the major episodes and characters in its subject's story, but it also adds its own music and sensibility, its own rich mouthfuls of language, its own contemporary sense of form and possibility. I am struck by how Margolin's raunchy, brilliant, tragic, and captivating spirit finds a god-daughter in Lisa Richter's voracious, passionate voice." – Adam Sol, author of "How a Poem Moves"
To order Nautilus and Bone, please visit the Frontenac House website or contact your local independent bookseller.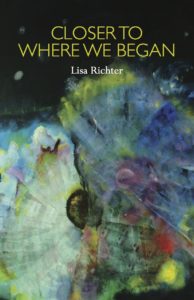 Closer to Where We Began (Tightrope Books, 2017)
"Lisa Richter weaves time and place with grace and expertise throughout the poems in this her first collection, Closer to Where We Began. Sensual, delicate yet biting, these poems sweep forward and back with energy and insight proving 'the heart is a finite muscle of blood and music.' By following the rhythm of each poem's unfolding we are led to a 'deeper quiet.'  A rich and resonant book."—Catherine Graham, author of Her Red Hair Rises with the Wings of Insects
Out of print. To purchase a copy, please contact the author.